Thank You for Joining Us @ Study Skills for School and Beyond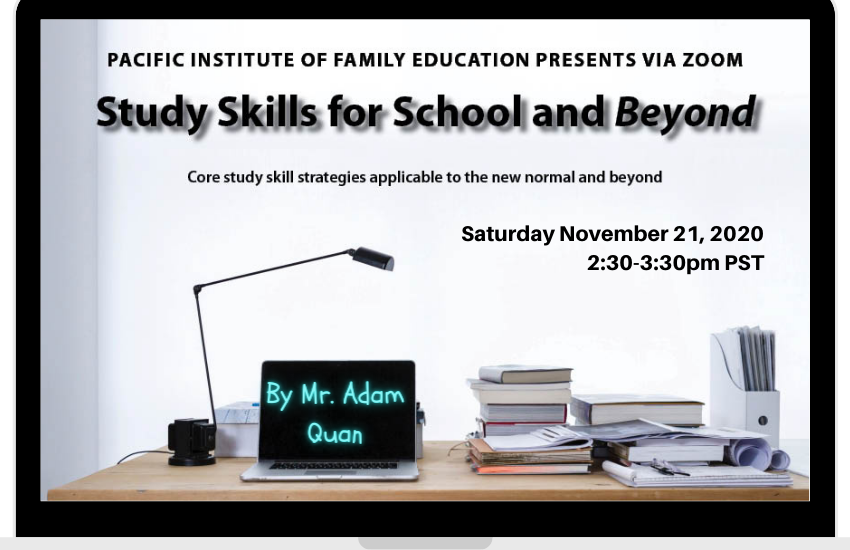 How refreshing it was to hear our guest speaker Mr. Adam Quan, an enthusiastic elementary school teacher with experience teaching Grades 4, 6, and 7, kick off PIFE's first virtual Bright and Cheerful Home Seminar!  On Sat Nov 21, 2020 via Zoom, Adam started his talk by reminding keen parents to be patient when they handhold their elementary children or guide their high school teenagers to become independent.  From goal setting to self caring, Adam gave constructive tips and new perspectives to parents to focus on during this new normal.
One of the attendees, a parent with a pre-teen and 2 teenagers, wrote:
Adam's presentation was very clear and organized.  Those study skills were important and helpful not only to students, but also to parents who needed to set clear goals, be organized and practice self care, too.  I liked the part on self care most.  When I teach my children about study skills in the near future,  I can now quote what I've learned from Adam, something more updated and relevant, rather than my own study experience, which was gained more than 25 years ago!
Thank you for joining us @ Study Skills for School and Beyond, we look forward to seeing you at our next Bright and Cheerful Home Seminar Connections before Connection via Zoom in 2021!
Below please find the presentation of the Study Skills talk, shared generously by Adam, for parents' reference:
Study Skills for School and Beyond